If weather becomes an issue, please always call the office phone as the announcement there and on Facebook will be updated of any cancellations for worship services or office hours.
If pastoral care is needed at any time, please contact Rev. Tanner at:
Home: 570-586-8162 or Cell: 570-430-2793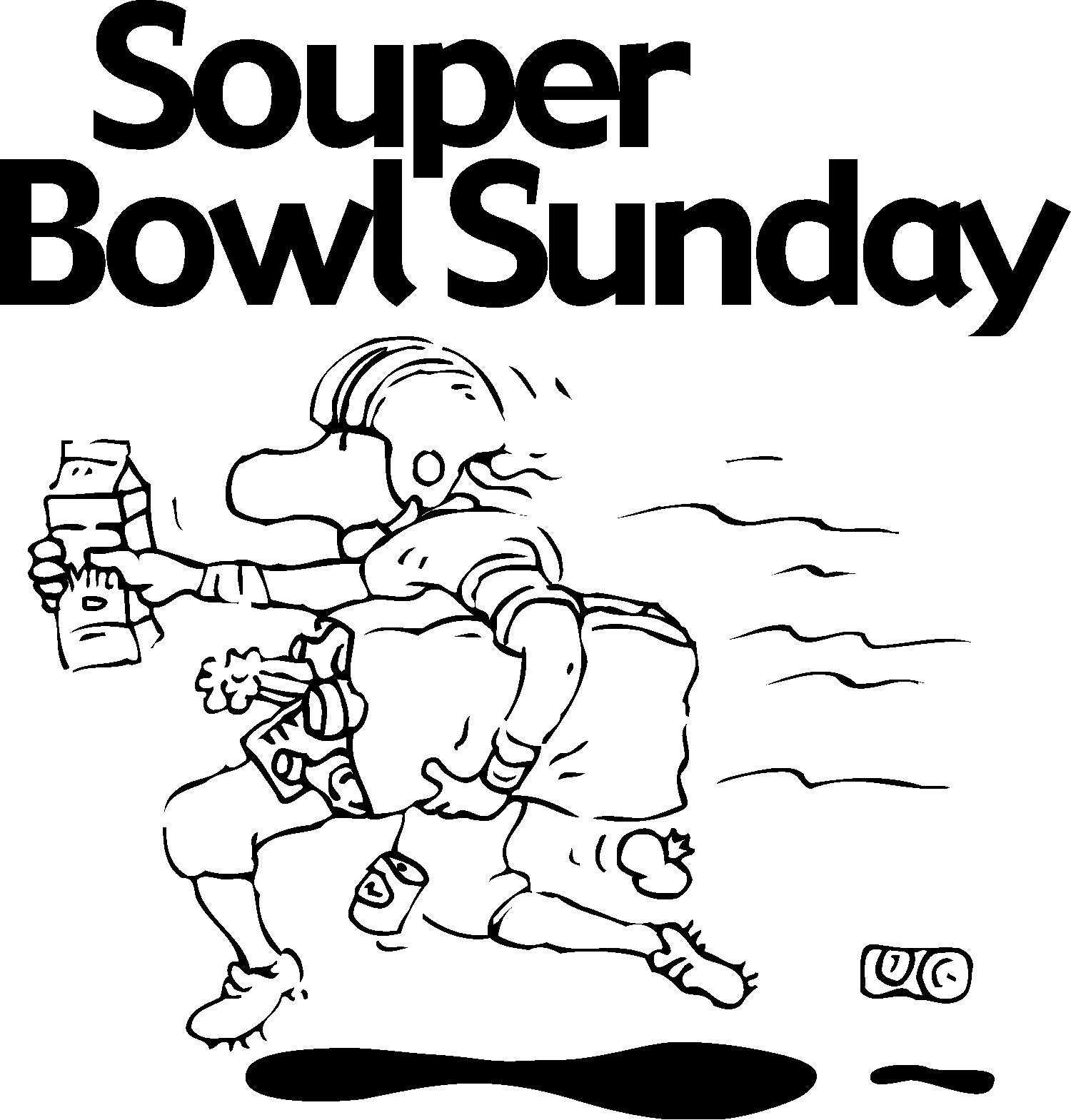 Sue: 570-954-5846
Sunday, February 12th Souper Bowl of Caring is dedicated to tackling issues that exist in communities, including poverty, hunger and homelessness. Since 1990, young people have been leading the charge and inspiring others to collect money and food around the time of the Big Game.
We thank those who donated the food items and $255 will be given to Safety Net in Scranton.
The Board of Deacons continues to collect canned goods and non-perishable food items for the Safety Net in Scranton.
Christian Symbol
40—In Scripture, this number often indicates a time of trial or testing, or simply marks significance. It rained 40 days and nights during the Flood. Israel wandered in the wilderness for 40 years. Jesus fasted for 40 days and was with the disciples for 40 days between his resurrection and ascension. The Christian church has long observed 40 days of Lent (not counting Sundays).
Mr. Rogers Day is March 20 -- Fred Rogers was an ordained minister of word and sacrament for the PC(USA) and was a notable public figure whose work around peace and reconciliation is worth remembering. Rogers was also a pioneer in the world of Christian education and formation of young children. March 20 was his birthday and the day that the PC(USA) has chosen to highlight all we can learn from his work.
He was an American television host, author, producer, and Presbyterian minister. He was the creator, showrunner, and host of the preschool television series Mister Rogers' Neighborhood, which ran from 1968 to 2001.
"Love isn't a state of perfect caring. It is an active noun like struggle. To love someone is to strive to accept that person exactly the way he or she is, right here and now. When I say it's you I like, I'm talking about that part of you that knows that life is far more than anything you can ever see or hear or touch. That deep part of you that allows you to stand for those things without which humankind cannot survive. Love that conquers hate, peace that rises triumphant over war, and justice that proves more powerful than greed." Quoted from Fred Rogers
Both the regular and large print editions of Our Daily Bread are now available – if you you would like one, contact the office and we will be sure you receive it.
World Day of Prayer 2023 Friday, March 3rd
World Day of Prayer takes place internationally on the first Friday of March every year.
"I Have Heard About Your Faith"
One of the WDP Guiding Principles states that 'Prayer is rooted in listening to God and to one another. In WDP we listen to the Word of God and to voices of women sharing their hopes and fears, their joys and sorrows, their opportunities and needs.'
The theme of the worship service "I have heard about your faith", based on the letter to the Ephesians, is an invitation to active listening, which is the ground of our prayers. Following the example of the letter (1:15-19), where the author praises the church for their faith in Jesus and love toward all the saints, the worship service contextualizes the witness of the saints with the stories from Taiwan.
The worship service shares the letters of encouragement sent to women who faced suffering and injustice. Their stories of faith contemplate issues that are shared by women and girls around the world and that continue to challenge us to prayerful action.
We are reminded of the urgency to protect the environment and have a nuclear-free homeland; to be aware of the gender stereotypes women face when defying he traditional role in the workplace or in the family, and to care for the healing of the victims of verbal and sexual abuses. It also brings to light the hidden struggle of the essential workers during the pandemic who had to balance between work and family in a vulnerable economic situation.
We Are There ONE GREAT HOUR OF SHARING
In Our Living, In Our Giving, We Are There
Jesus teaches us in Matthew 25, that in every time and season, the Church connects with itself and its Savior through relationships with those who have least. For over 70 years, One Great Hour of Sharing has partnered with others to take action to share God's love. Through these three life-saving programs, we are there to advance the causes of justice, resilience and sustainability. Thanks to your heartfelt gifts, One Great Hour of Sharing currently supports projects in more than 100 countries.
PRESBYTERIAN DISASTER ASSISTANCE
PRESBYTERIAN HUNGER PROGRAM
SELF-DEVELOPMENT OF PEOPLE
Join with Presbyterians worldwide in sharing God's love with our neighbors-in-need around the world by providing relief from natural disasters, food for the hungry, and support for the poor and oppressed.
Let us pray Sheltering God, may our prayers and our gifts support those all around this world who have little and whose lives are impacted by floods, famines and disease. May we show your love in our gifts and in our lives. Amen.
Envelopes will be available in pew card holders.